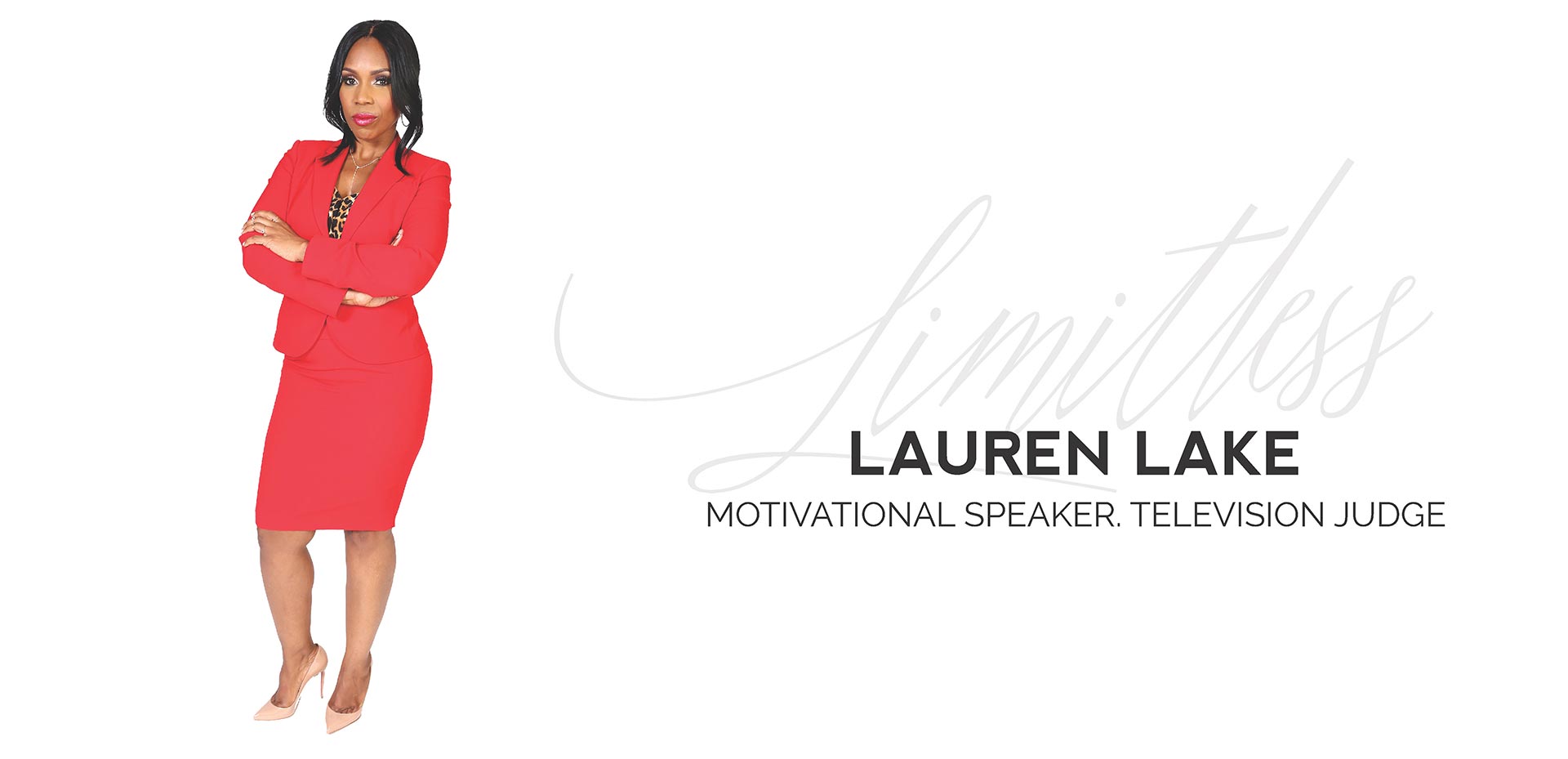 Lauren Lake is a multi-faceted television personality who serves as the judge on the nationally syndicated half hour daily courtroom show, LAUREN LAKE'S PATERNITY COURT. The sharp-witted and opinionated Lake helps litigants resolve legal issues involving paternity using DNA results. The daytime courtroom series has been resonating with viewers nationwide and was the only new daytime show in 2013 to be renewed for a second season. While presiding over a range of emotional cases, Lauren's personality shines through as she provides the perfect blend of inspiration and tough love with her no-nonsense, tell-it-like-it-is advice and analysis of each case.
Lauren is a legal and relationship expert who graduated from the University of Michigan and earned her law degree at Wayne State University. She is a member of the New York, New Jersey and Michigan bars with concentrations in family, criminal, entertainment law. Lake regularly contributes her no-nonsense, tell-it-like-it-is advice and analysis to some of today's most popular television programs including, the nationally syndicated, Emmy nominated, half hour daily courtroom show, "Lauren Lake's Paternity Court", "Steve Harvey," "The View," "Good Morning America," "Today," "CBS This Morning," "Dr. Phil," "Nancy Grace," "The Wendy Williams Show" and "O'Reilly Factor." She has also served as a guest host for MSNBC and Court TV. Lake is a frequent on-air guest radio host for Radio One's WDBZ in Cincinnati, and served as a legal expert on "The Tom Joyner Morning Show," "Michael Baisden" and WBLS New York. Lauren has also served as judge on BET/Centric TV's Queen Boss where she uses her professional experience to help aspiring female entrepreneurs turn their business ideas into empires.
A highly sought after speaker and lecturer, Lake provides keynote addresses for countless social, civic, business, legal, and student organizations across the country. Her inspiring, high energy speeches have becomes a favorite among the students at universities such as: Princeton, the University of Michigan, Michigan State University College of Law, Florida A&M University, Xavier University, and University of Alabama Birmingham.
In her 2009 book, Girl! Let Me Tell You…Lake empowers single women to never settle for anything less than what they deserve in life and in love. Lake has served as moderator and contributor on panels dedicated to women, relationships, empowerment, and family. These panels include: Radio One Women's Empowerment Expo, Circle of Sisters Expo, the Essence Young Women's Leadership Conference, and the Tom Joyner Family Reunion.
Some of Lauren's past presentations include:
"Why be ordinary when extraordinary is an option?" The Art of Living Life Limitlessly.
"Beyond the Legal Limits: Nontraditional Careers for Lawyers"
"Fit for the Fight: How to Stretch Your Faith, Build Motivation & Exercise Your Right to Live Your Dreams."
"Turning Your Passion into Profit: How to Market Your Unique Gifts and Make a Living Doing What You Love."
"Real-Life Family Feuds: Resolving Family Conflicts and Breaking Generational Disfunction."
"Paternity Secrets and the Effect Their Effect on Daddyless Daughters and Fatherless Sons."
"Negotiating in Relationships: How to Create a Win/Win Situation in Love."
"Relationship Rehab: How to Overcome Adversity in Relationships"
"Girl! Let Me Tell You…Advice on Life and Love for Single Successful Women" – Dating, Relationships
To see Lauren in action, go to LIVE!
HAVE LAUREN SPEAK AT YOUR NEXT EVENT!
Likes

(0)
Dislikes

(0)